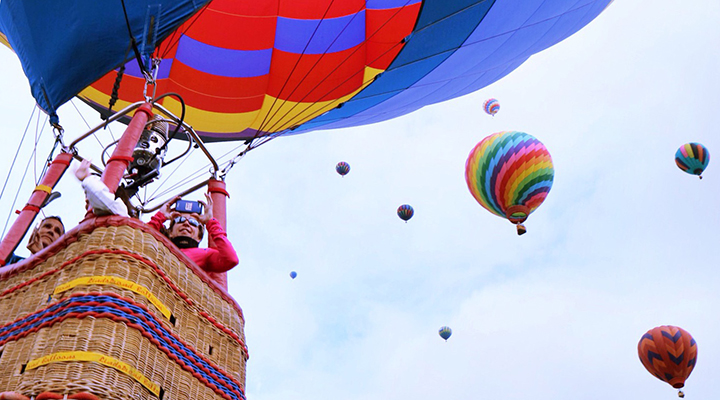 Every October, the Land of Enchantment becomes the Sky of Enchantment as hundreds of hot air balloons take flight for the annual Albuquerque International Balloon Fiesta. The yearly spectacle attracted nearly a million visitors in 2015 to watch close to 600 balloons fill the New Mexican skies.
Make the most out of your Fiesta with these 5 must-dos:
1. Snap Photos
Few moments are as picturesque as hundreds of colorful flying balloons with the Sandia Mountains as a backdrop. We recommend twilight hours to practice your shot, as the muted blue sky creates a beautiful lighting for the colorful balloon glow. The morning events are a great time for photos, too.
2. Take Flight
Daredevils can enjoy the experience firsthand by signing up for their own ride. But hurry! There is only one company authorized to take off from Balloon Fiesta Park, and reservations go fast.
3. Feast on Green Chile
The rich aroma of green chiles roasting in the crisp autumn air complements hundreds of colorful balloons. Stock up on this New Mexican staple, which is full of vitamin A, vitamin K, potassium and many other nutrients.
4. Dance Your Heart Out
Each year, the festival attracts an incredible musical line-up from across the country. Tickets to the Music Fiesta can be purchased here.
5. Stay Up Late
It's worth delaying your bedtime to witness The Balloon Glow and the Night Magic Glow events, which occur on the first Sunday and last Saturday nights, respectively. If the weather is clear, viewers are also treated to a spectacular fireworks show after.
Visiting this year's Fiesta? Share your photos with us on our Facebook, Twitter and Instagram accounts.