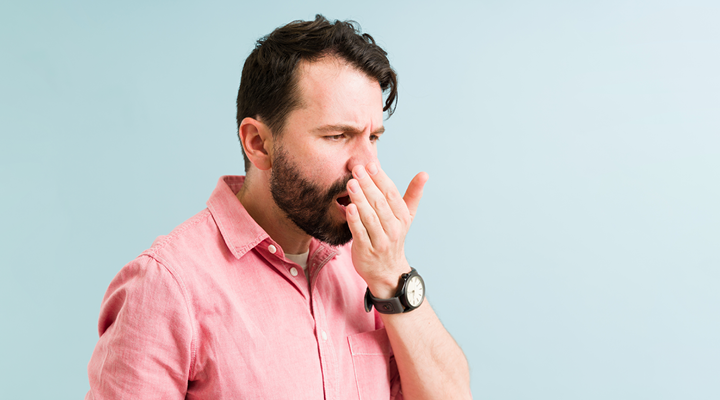 Bad breath has inflicted humans for thousands of years. It wasn't until the late 1800s, however, that people called it a "disease" and jumped on the opportunity to make money by creating a "medicine" for the embarrassing problem. Today, this "medicine" called Listerine is used by millions of people all over the world. Learn more about the history of the bad-breath fighter and other ways to stop the stench.
HISTORY OF MEDICINE FOR HALITOSIS
Bad breath has been around since the beginning of time, but according to the Smithsonian, advertisements for Listerine changed halitosis from a pet peeve to a disgusting medical issue that should receive immediate treatment.
When it came to the market in the 1880s, Listerine was initially intended as a surgical antiseptic. Its creator, Dr. Joseph Lawrence, named his work after Dr. Joseph Lister, the founding father of antiseptics. Advertisements aimed at dentists said that Listerine would kill germs in the mouth.
The Listerine formula was later purchased by Jordan Wheat Lambert, founder of the Lambert Pharmaceutical Company. Once Lambert saw the consumer marketing opportunity, he created the term halitosis by combining the Latin word for breath, "Halitus," and the medical ending "osis." The word halitosis started appearing in ads in the 1920s as a medical condition that people should take note of and use Listerine to fight. With that, Listerine positioned itself as the best way to beat halitosis.
OTHER WAYS TO COMBAT HALITOSIS
Bad breath affects 1 in 4 people globally. For the majority, halitosis is caused by poor oral hygiene, gum disease, tongue coat, or dirty dentures. Fortunately, there are things you can do to avoid these problems:
Brush and floss twice a day – Brushing your teeth helps remove smelly foods and stubborn bacteria from your mouth. Flossing plucks food from between your teeth and along your gum line, which can cause bad bacteria to grow and settle in.
Brush or scrape your tongue – Use your toothbrush to remove plaque, food debris, and dead cells from your tongue's surface. You can also invest in an inexpensive tool called a tongue scraper.
Stop tobacco use – If you're a smoker or a chewer, you're probably familiar with the negative effects it has on your teeth, mouth, and breath. Eliminating tobacco permanently is good for your overall health and can improve your breath too.
Go to the dentist – Visit your dentist twice a year for an exam and cleaning. If you struggle with halitosis, talk to your dentist about other remedies that can help.
Don't have a dentist yet? Find one here today!