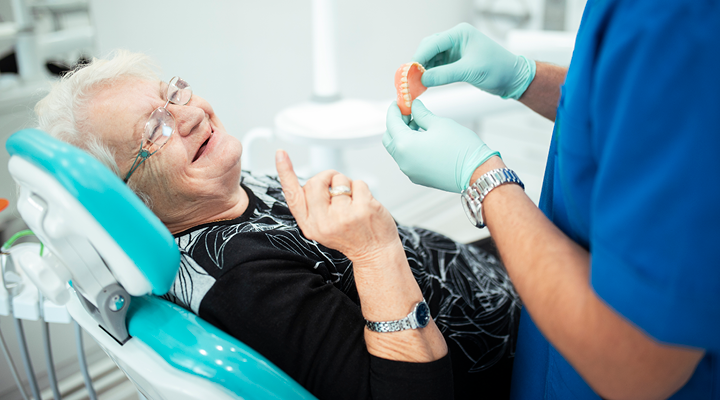 You wouldn't visit a dermatologist if you were experiencing back pain, right? Luckily, the medical field is home to hundreds of specialties that allow doctors to provide expert care and knowledge specific to your body's needs. The same type of specialization goes for different age groups. Just as a pediatric dentist is trained to provide specialized care to children, a geriatric dentist knows the best way to deal with older adults' oral health issues.
What is geriatric dentistry?
Geriatric dentistry specializes in the prevention and treatment of age-specific oral health issues by providing general oral care to older adults in the 65+ age range. To best assist older adults, geriatric dentists carry specific knowledge of diseases like tooth decay and loss, diabetes, and oral cancer. In addition, geriatric dentists are trained to provide a level of service specific to the issues of older adults, such as monitoring medications and dealing with physical and sensory limitations.
Why is geriatric dentistry important?
Geriatric dentistry is essential for patients to feel confident that their dental team is up-to-date on the latest research for oral care in older adults. This ongoing education includes special training to help dentists and assistants treat and protect patients. For example, since it's common for older adults to use several prescriptions or over-the-counter medications regularly, geriatric dentists must retain knowledge of prescription drugs and the use of anesthesia to avoid any medication errors.
Geriatric dentists are also trained to deal with physical and sensory limitations. For example, dentists may need to provide special toothbrush alternatives to older adults with arthritis. In addition, they would know that a patient with mobility issues should schedule cleanings more frequently.
Another example would be adequately dealing with patients with hearing or vision loss. It takes special consideration to effectively communicate with these patients in an understanding way, such as relying on nonverbal contact methods or speaking at a higher decibel. Taking the extra step to increase the font size on prescription bottles is also an example of effective communication.
Common oral health problems in older adults
As you age, your cells slow down, tissue becomes thinner, and bones become weaker. These changes will eventually affect tissue and bone in your mouth, increasing your risk for oral health diseases. Older adults can develop numerous oral health problems, including:
Darkened teeth
Dry mouth
A diminished sense of taste
Root decay
Gum disease
Tooth loss
Uneven jawbone
Denture-induced stomatitis
Thrush
While many doctors still consider oral cancer to be rare, it does pose a risk to older adults. Your dentist will look for common symptoms of oral cancer during routine cleanings, including:
Open sores
Loose teeth
Lumps in the lymph nodes
Pain in the face, ears, and neck
Visiting a geriatric dentist ensures you're getting proper and specialized treatment for the issues above.
When should you visit a geriatric dentist?
Like any other age group, older adults must maintain a good oral health routine – including brushing twice a day, flossing once a day, and using an antiseptic mouthwash daily.
While age does play a factor in visiting a geriatric dentist, you should also consider your physical state. For example, adults younger than 65 who have arthritis or have a history of drug problems may need to visit sooner.
You should visit your dentist for routine cleanings and checkups and schedule an appointment if you notice any of the signs or symptoms above.