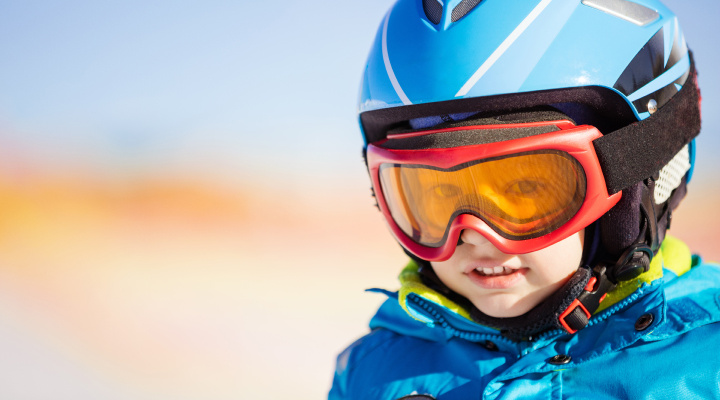 Organized sports for kids teach teamwork, physical fitness, and a variety of other beneficial skills. To enjoy sports safely, kids wear shin guards for soccer or padding for football. But what about keeping their eyes safe? According to the American Academy of Ophthalmology, 90 percent of sports-related eye injuries can be prevented.
By taking the necessary precautions for your child, you can avoid eye injuries and keep your kid's head in the game. When parents and coaches encourage vision protection during kids' sports, we all win.
Proper material for protective eyewear
Before your child joins the team, make sure to get their vision tested by an eye doctor. If your child can't see a ball, they can't hit (or avoid getting hit by) the ball. Vision protection should be used in kids' sports whether your child wears glasses or not. That's because sports are the leading cause of eye injuries in school-aged kids.
Vision doctors recommend that protective eyewear is made from an ultra-strong type of plastic called polycarbonate. It can keep kids safe from a ball traveling at 90 mph, and it also shields the eyes from the sun's ultraviolet (UV) rays. Protective eyewear prevents contact injuries as well as sun damage — that's why regular eyeglasses or sunglasses are not considered protective eyewear.
Protective eyewear sizes for kids playing sports
To ensure your child's protective eyewear is effective, make sure it fits correctly. Just like t-shirts and shoes, different sizes of protective eyewear are available, so find one your child is most comfortable in. Ask your eye doctor about prescription eye guards for sports, even if your child doesn't need vision correction.
Labels for performance requirements
Eye injury is a serious thing. That's why manufacturers make it easy to tell if an eye guard or protective eyewear can safeguard your child's eyes. ASTM International provides labels to signify that a product has the performance requirements needed for safety during contact sports. If the protective eyewear is labeled as ASTM F803 approved, then it has been performance tested to give you the highest levels of protection.
Click here for a more comprehensive list of eye-safety standards and the activities they correspond with.
Best eyewear protection depends on the sport
Different sports call for different types of protective eyewear because of the risks they pose. Use the graph below to assess the level of eye-injury risk when it comes to sports your child is interested in: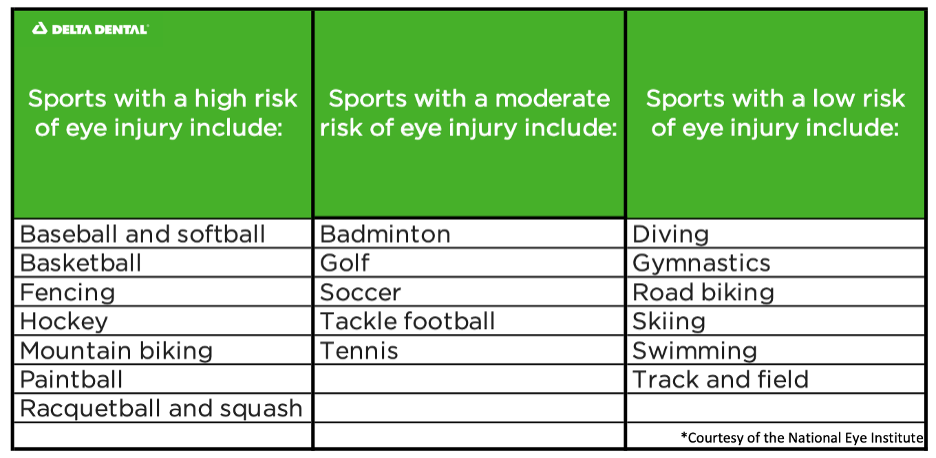 The National Eye Institute recommends kids use safety goggles with polycarbonate lenses when playing sports like:
Baseball and softball (when fielding)
Basketball
Mountain biking
Racquetball and squash
Kids need helmets with attached polycarbonate face guards or face masks when playing sports like:
Baseball and softball (when batting)
Hockey
Tackle football
Kids need swim safety goggles with polycarbonate lenses when playing sports that happen in water, like:
Surfing
Water polo
Water skiing or tubing
The top five sports with the most eye injuries include basketball, water and pool sports, BB gun and other shooting sports that use guns (air, gas, spring), baseball and softball, and football.
Vision is essential for a child's growth and development. When eye injuries during sports are so easy to prevent, protective eyewear is a no-brainer. If you're not sure what type of protective eyewear your child needs, ask your child's eye doctor.
Need to find an eye doctor near you? Click here.