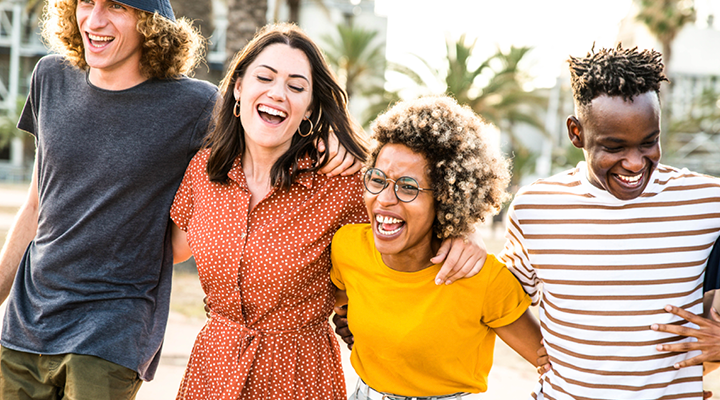 A smile is a meaningful way to communicate with those around you. We use our smiles to share how we feel every day. However, when someone doesn't feel proud of or comfortable with their smile, it takes a toll on their self-esteem.
A healthy and shining smile exudes confidence and happiness. The best way to take care of your smile is to prioritize your oral health with the support of dental benefits.
How dental health is linked to happiness
The health of your smile has a significant impact on the quality of your life. In the 1940s, the World Health Organization (WHO) changed the definition of health to contain not just our body, but also our mind. Health now describes not just a lack of illness but "physical, mental, and social well-being," too.
As more data around this connection to happiness was collected, "evidence grew of the impact of oral disease on social roles." The relationship between a person's smile and the quality of their life became increasingly important. Researchers focused on how healthy smiles affect daily life, and an acronym was invented for it 40 years after the WHO's definition update.
Oral Health-Related Quality of Life
The acronym, OHRQOL, stands for oral health-related quality of life. The impact dental health has on our quality of life is still being studied today. Dentists are examining what risk factors identify that an adolescent needs dental intervention so they may carry positive self-esteem into adulthood.
OHRQOL studies have led dentists to investigate the variety of dental disorders that impact self-esteem. One study found the need for orthodontic treatment had the "maximum impact on self-esteem." But preventable conditions also had a substantial impact. Tooth decay, tooth loss, and fractured teeth influenced the self-esteem of those in the study, too.
Preventive treatment from a dentist will help you avoid conditions that negatively impact well-being. Biannual dentist visits and the proper at-home dental care routine can help you strengthen your sense of self-worth, self-confidence, and comfort in social situations. Overall, it can improve your quality of life.
Poor dental health decreases quality of life
In addition to the need for orthodontic procedures, other dental problems can directly impact a person's self-esteem and quality of life. Decayed teeth, tooth loss, and dental caries significantly influence both self-esteem and the health of an individual.
Missing or damaged teeth significantly impact an individual's quality of life, affecting:
Chewing
Speaking
Smile appearance
Ability to socialize
Ability to perform work/daily activities
Children's dental health impacts development
Poor oral health not only affects adults but also children. One study dove deeper to look specifically at adolescents ages 10 to 17. Researchers examined whether or not the children's self-confidence was affected by dental disorders. The dental disorders included missing or broken teeth, untreated dental caries, and malocclusion. That's the technical term for having an imperfectly spaced bite.
After studying children from 14 participating schools, researchers found that dental health and happiness were linked, and dental health has a substantial influence on self-esteem. Specifically, dental health impacted the children's abilities to "accept the worthiness of oneself."
As dentists become more aware of the impact poor dental health has on children (physically and mentally), they can intervene and improve the child's smile. In turn, dentists can help them develop their self-esteem into adulthood.
Access to dental care
Studies demonstrate that dental health is linked to happiness. That means maintaining your dental health will lead you and your children, friends, and family, to a healthier, happier life down the line. Dental benefits from Delta Dental make this an easy task.
From proper brushing and flossing methods at home to dentist visit reminders, here at Delta Dental, we're all about helping you make the most of your dental benefits. Why? Because it leads to a happier, healthier you. With an extensive network of dentists in your area, not only do benefits save you money, they make it easier to find the perfect dentist for your needs.
For information on what's included in your plan, click here. Don't have a plan yet? Learn more about getting dental benefits.