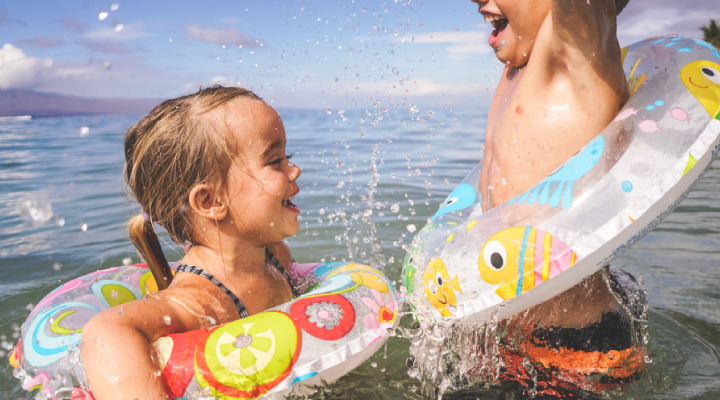 Between the heat, blue skies and sunshine, your kids can't seem to get enough of their slip-and-slides, soccer camps and swimming lessons. But besides fun, hot temps can mean heat hazards.
Here's how to keep little ones healthy during the dog days of summer:
How hot is too hot?
According to the National Resource Center for Health and Safety in Child Care and Early Education, you should keep kids indoors when the heat index is at or above 90°F. And when venturing outside in the hotter weather, seek shade in the form of umbrellas and hats. Clothing is key for kids—dress them in light colors and lightweight fabrics.
There's more to sunscreen than just applying it.
In order to be effective, a sunscreen must contain an SPF of 15 or higher. SPF blocks only one type of cancer-causing ray, ultraviolet B (UVB). Look for a multi-spectrum sunscreen to keep kids safe from both UVA and UVB rays. Remember to apply more every 2 hours and/or after water play. Finally, slap on the 'screen at least 30 minutes before sun exposure.
Kids aren't drinking enough water.
The majority of American kids are mildly dehydrated. Children ages 4 to 8 should drink about 2 quarts of water per day. And as kids get bigger, so should their water intake! Extra ounces should also be added for extreme heat, humidity and activity. PRO TIP: Water-based foods like watermelon count towards kids' daily intake. However, water is best.